So, I discovered something interesting about myself this weekend.
When I meet famous people, I start shaking.
On Saturday, I was lucky enough to be able to attend the
North Texas Teen Book Festival
(NTTBF for short). There were so many well-known authors there.
Seriously.
So many
. Authors like Veronica Roth, Maggie Stievater, Victoria Aveyard, Marie Lu, Stephanie Perkins, and many, many, many others. The ones I was really excited about are all relatively lesser-known: Shannon Hale, Ally Carter, Ally Condie, Lisa McMann, Claire Legrand, and Matthew J. Kirby. And I got to meet all of them.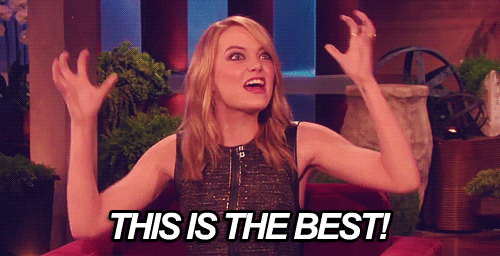 actually me, the entire day
The day started off with panels, where I got to see and hear the authors talk about everything from mental health in books to their favorite ships in Buffy The Vampire Slayer to writing fantasy.
mental health panel featuring Jeff Zentner, Jennifer Niven, Adam Silvera, John Corey Whaley, Justine Larbalestier, and Sonya Sones.
There was a panel with one of my favorite booktubers,
jessethereader
, but I was late and the room was closed by the time I got there. *cue sobbing* But actually it's okay! I met two girls, Tyler and Jewel, who were also late, and we ended up talking and hanging out for a lot of the day. I failed to get a picture with them (shame on me), but we exchanged social media so we can keep talking (hi guys). And I found Jesse! He was so incredibly nice and hugged me before I even introduced myself.
I never actually told him my name, which is awkward
(also, my entire family ships us, so that's cool)
I also spoiled myself and bought four books(technically five, because The Scorpio Races is for a friend who lives several states away). They didn't have all the books I wanted(more on that later), and I made a few surprise perchases, but I'm happy with what I got.
the haul
I also brought alllllll these books from home to get signed. My arms and shoulders were killing me by the end of the day. Books are heavy, kids.
the books from home
I really enjoyed the panels, but the highlight of the day was by far the signings. Ah, the signings.
Matthew J. Kirby
I brought his book
Icefall
to be signed. It's a lovely book about Norse people/Vikings, survival, loyalty, family, and the power of storytelling. I'm in desperate need of a reread. He was super nice and thought it was cool that I'd brought my own copy of the book from home instead of buying it at the conference.
Ally Carter
If I'm remembering correctly, Ally Carter was my next stop. I've read several of her books, but I was only able to bring
I'd Tell You I Love You But Then I'd Have To Kill You
from home.
try saying that five times fast. actually don't, you'll hurt yourself
. I also bought
All Fall Down
, and got both books signed. When she saw that I was wearing plaid, she was like "ohhhh you're cosplaying as a Gallagher girl!" and then nodded encouragingly. So I was like ".....yes! Definitely!" It was hilarious. (idk why I didn't get a picture with her.)
Ally Condie
The Allys were seated very close to each other, because their names are so close to identical. While I wasn't a huge fan of the Matched series, I loved the
first book
and was thrilled to get it signed. I also got to tell Mrs. Condie that I'll be attending the
Minneapolis Young Writers Workshop
, where she'll be teaching at this summer. She's so nice and sweet and I can't wait to get to know her better at the conference!
*screams*
Shannon Hale
Boy oh boy was I nervous about meeting Mrs. Hale. I've loved her books for so long and I really admire her writing ability. I probably sounded like an idiot while we talked, but it was worth it. I brought my copy of
Goose Girl
and my sister's copy of
Princess Academy
to be signed, because that girl has read it so many times she has the first page memorized. Mrs. Hale was very impressed. She's going to MYWW as well, and I hope I'll be a little
a lot
less awkward next time we talk.
Lisa McMann
I haven't read the rest of the series, but Mrs. McMann's book
The Unwanteds
is one of my favorites. She seemed thrilled when I told her how much the book means to me. I also got one of the tiny squishy dragons she was giving out. *squeals happily*
Jennifer E. Smith
I bought Mrs. Smith's book
The Statistical Probability of Love At First Sight
on whim because it seemed cute, and I wasn't able to get all of the books I wanted. BOY OH BOY am I glad I did. It was ridiculously fluffy and I loved it; I'm so glad I got it signed. (After, I overheard a younger girl telling her friends that she was going to have Mrs. Smith sign her hand or something, so I offered her a page from my notebook so the signature would last. She was so grateful and her face just lit up.)
Adam Silvera
So, I haven't read any of his books, but he said some wonderful things in the mental illness panel and just seems like the friendliest dude ever, so I had him sign my notebook. And no I'm not short, he's just ridiculously tall.
Claire Legrand
And now for the grand finale. The "more on that later" from earlier. The highlight of the entire day.
If you haven't seen my glowing review of her book
Some Kind of Happiness
on Goodreads, let me take this opportunity to tell you that it is one of the best books I've read in my life. It's so incredibly important to me. So when I found out that Claire would be at the conference, I just about died. I was going to buy the book! And meet the author! And let her know how much it means to me! But by the time I got to the book-selling area, it was sold out. I was absolutely heartbroken. I thought I'd lost my chance to talk to Claire. But then just a minute later, I noticed her nearby talking to her family. I worked up my courage, pulled out my notebook and pen, and approached her hesitantly. She hugged me twice(!!!), wrote me a short note that I will treasure until the end of my days, told me to email her for a bookplate, and listened to my stammering, help-I-can't-stop-shaking, rambling explaination of how much I appreciate Some Kind of Happiness.
(Seriously, it took me like five minutes to stop shaking.)
Then, after the signing was basically over and everyone was cleaning up and heading home, I went over to her and we talked again about depression and anxiety, writing, and how wonderful the conference was. And she hugged me again.
I'm so grateful that Some Kind of Happiness was sold out. If I'd bought the book, we wouldn't have talked so much, and I wouldn't consider her a friend. It was proof that sometimes the things you want the least are the things you need the most.
if you hear screaming in the background, that's definitely me.
Bonus photos!
Awkward stalker-y photos of Maggie Stievater because I never actually got the chance to meet her
the ridiculous amount of bookish pins I bought
the books I bought a few days before the conference, because they came out to 95 cents and I can't pass up cheap books
Have you ever met an author you look up to? Have you goten any good books or gone to any bookish events recently? How many signed books do you own? According to Goodreads, I have 11. That number will hopefully increase in the future.